UF Research announces stage 2 of resumption plan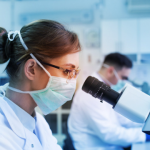 Earlier this week, the UF Office of Research announced it was progressing to Stage 2 of its Resumption Plan. For many, the most significant change will be an increase in the allowed density of people per laboratory from 1 person per 500 square-feet. to 1 person per 250 square-feet.
Resumption of diagnostic, screening and interventional studies in human subject research activities also will expand. Specific guidance for human subject researchers can be found at the Clinical and Translational Science Institutes' page on resuming health-related human subjects research during COVID-19.
Visit the Office of Research website to learn more.