Dr. Patricia Hilliard-Nunn Black film and film literature collection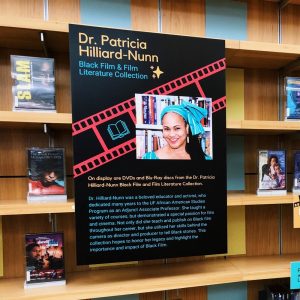 The George A. Smathers Libraries are dedicating a legacy collection of Black film and film literature to the memory of the late Dr. Patricia Hilliard-Nunn. Dr. Hilliard-Nunn was a beloved educator and activist who dedicated many years to the UF African American Studies Program as an adjunct associate professor. The Collection offers a selection of popular films spanning Black film history; documentaries on Black history, culture and social issues; and secondary, scholarly works on Black film theory, criticism and analyses.
A selection of DVDs and Blu-ray discs from the Collection are currently on display on the second floor of Library West. A corresponding display will be available to the public through the Alachua County Library District. For questions concerning the collection or Library West display, please contact Stephanie Birch, UF African American Studies librarian, at stephanie.birch@ufl.edu.