Service Recognition celebration honors longtime UF staff
On Aug. 10, UF President 
Kent Fuchs, Ph.D.
, and Vice President for Human Resources 
Jodi Gentry, 
hosted a staff appreciation reception at the Earl and Christy Powell University House. Typically held in March, but postponed due to the pandemic, the event honored staff who celebrated 25, 30, 35, 40 and 45 years of service at UF in 2020. "With more than 9,000 staff members at the University of Florida, who fulfill a wide range of professions, this reception is one of the most important recognition programs at the university," said Gentry. "It celebrates the contributions and commitment of high quality, dedicated UF employees."
Roxanne Moody
, administrative support assistant at Business Services, was one of the attendees who celebrated 45 years of service at UF. After receiving her award, Moody expressed gratitude for her work colleagues and her experiences at the university. "I want to thank the employees and staff at UF that I had the privilege to work with throughout the past 45 years," said Moody. "The support and friendship you showed me has been a wonderful experience that I will always treasure. I appreciate the opportunity that I had to work with many UF students from their freshmen year through graduation. I always enjoy seeing the success of their professional accomplishments. UF has experienced several transitional changes over the years. With each challenge, UF continues to grow in a positive direction. It's great to be a Florida Gator!"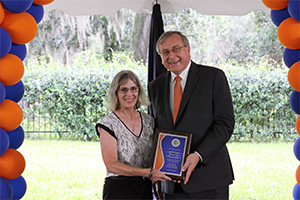 IFAS Biological Scientist 
Jeanne Yuen
 was another honoree who celebrated 40 years of service at UF. "It was a pleasure attending the staff recognition event to celebrate my 40 plus years working at the University of Florida — 37 years at MREC in Apopka," said Yuen. "I feel very fortunate to have a job that I have enjoyed for all these years." For 
Shirley Robinson
, undergraduate academic advisor at the department of Mechanical & Aerospace Engineering, her 40 years of service were an opportunity to work incredible students.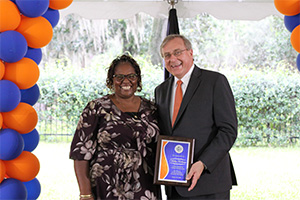 "I am grateful to have been working at the University of Florida since 1980, and I have had the opportunity to work with some amazing people," said Robinson. "I have also had the pleasure and fortune to assist and advise thousands of students with their educational goals, and I believe that they have gone out into the world to become successful leaders in their fields. Remember to smile and the world will smile back. God bless and Go Gators!" Congratulations to all the honorees. Your hard work and dedication push the University of Florida to greater heights.
View more photos of the event here: 
https://ufphotography.photoshelter.com/galleries/C0000S6bkjGa2cIA/G00002fcL3Qm.TiA/2021-08-10-Staff-Appreciation
.