Moving UF forward together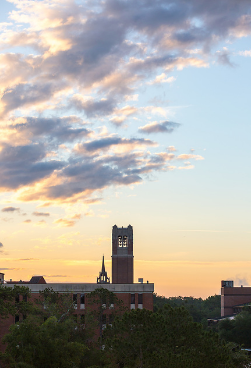 As announced earlier this month, the University of Florida and UF Health are working together to gradually reopen UF and to return our university operations to their fullest potential. In a City of Gainesville telephone town hall last Wednesday, President Fuchs emphasized the importance of bringing faculty and staff back safely in anticipation of students returning this fall.
"About a month ago, my strategy was that we would lock ourselves in place and outlast the virus, knowing that would impact our students and our research, but we could somehow get through it until there was a cure or a vaccine or the virus dissipates as it has with other viruses," Fuchs said during the meeting. "Now, my whole mindset is that COVID-19 is here to stay, and we're going to have to learn how to live with COVID-19 in Gainesville, in Alachua County and worldwide. And we have to live and do that safely."
UF's efforts to safely return faculty and staff to the workplace, alongside their colleagues who have remained on campus, are being guided by the world-class physicians and epidemiologists at UF Health. With everyone's health and safety as the top priority, the transition will be supported by a science- and data-driven program designed to minimize the spread of the novel coronavirus.
This process will be conducted in phases, with colleges, units and departments identifying clusters of personnel to complete screenings during each phase. Faculty and staff will be notified by their department or unit when they have been identified to complete screening; they also will receive an email from UF Human Resources explaining the screening process.
Guided by UF Health, some of the best practices that will be implemented as we return include:
Physical distancing between individuals
Following hygiene protocols
Wearing face masks or cloth face coverings
Deep and regular cleaning of workspaces
Ensuring employees who are feeling ill do not come to work and receive recommended testing and treatment as needed
In the days to come, please be on the lookout for further details about how the screening process will work and what you can expect. We will also continue to provide you with news and information via these updates, which are designed to support you throughout this period as we move forward together