Looking for ways to deepen your social connections?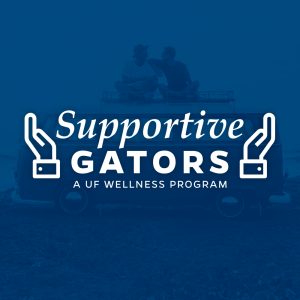 Many individuals' social, emotional and mental wellness have been adversely affected over the past year due to increased social isolation and loneliness. A new workshop geared toward UF faculty and staff, Supportive Gators, is designed to help us discover ways to improve our social, emotional and mental health outcomes by empowering us to strengthen our current social support networks and build new networks as needed.
Register for either of two upcoming virtual workshops offered via Zoom:
You can also discover kindred spirits and find opportunities to explore new interests by checking out our Get Connected! online directory, which features a variety of UF-sponsored and area affinity and interest groups.
Confidential emotional support is also available 24/7 through the UF Employee Assistance Program. If you or anyone in your household is struggling with loneliness or isolation, counseling is available at no cost by calling the EAP's toll-free number, 833.306.0103.