How UF helps veterans succeed as they pursue an education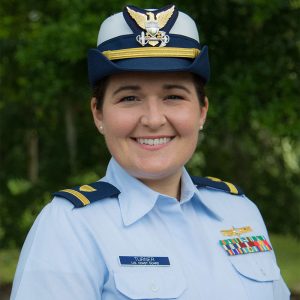 Veterans Day is a time for us to honor those who bravely served our country. Thanks to the GI Bill, thousands of military veterans have been able to pursue an education at the University of Florida.
In a recent episode of From Florida, Roselind Brown of the Collegiate Veterans Success Center, discussed UF's history of working with veterans, and U.S. Coast Guard Officer and UF|IFAS Ph.D. student Savanna Turner talked about the opportunities and challenges veterans face on a college campus.
Listen to the episode: https://news.ufl.edu/2021/11/from-florida-episode-9/.
Image: Savanna Turner, officer with the U.S. Coast Guard and UF|IFAS Ph.D. student.