Gaining the courage to pursue a post-secondary education – Abel Gilbert's journey toward a master's degree, fueled by the EEP
This article is a continuation of our series on how the Employee Education Program, or EEP, has benefitted UF employees. You can read our first spotlight on Brandon Telg here. You can also learn more about the EEP and the benefits it offers UF employees here.
---
While many students can easily transition from a bachelor's to a master's degree, others can find the process daunting. For Abel Gilbert, development coordinator at the UF College of Dentistry, deciding to return to UF for his master's degree was a five-year process that was made possible thanks to the support from his friends and co-workers.
Gilbert graduated with his bachelor's degree in linguistics in 2013. After graduation, he joined the College of Dentistry as an outreach and recruitment program assistant. At that time, graduate education was not something that Gilbert considered pursuing since he thought he lacked the confidence and know-how to initiate an application process.
"As a first-generation college student — and having immigrated to the U.S. when I was young — I felt like I didn't have the skills to navigate higher education while in undergrad," explained Gilbert. "So, for my graduate degree, I wanted to be more proactive in researching programs and steps to apply — and also understanding that it's completely normal to ask for help along the way."
Gilbert's concerns were slowly assuaged by co-workers who at the time were participating in the EEP. In particular, Gilbert recalls how his supervisors, Assistant Dean for Admissions Pamela Sandow, D.M.D., and Assistant Director of Admissions Stacy Buford, were two of his main supporters. They introduced Gilbert to the EEP and continued to encourage him until he felt secure enough to apply for his master's degree program.
Beyond his co-workers, though, Gilbert also had support from his friends. This became crucial, as they showed him that he, too, could balance full-time employment with part-time study.
"A number in my social circle completed graduate education," recalls Gilbert. "So, I definitely had the kind of social support where I could see that they were either young parents or were going to school part-time — and were able to balance everything. So, I thought if they can do it, why can't I?"
The support and encouragement he received motivated Gilbert to apply to the Master of Science in Management through the Warrington College of Business. Gilbert's choice in degree was based on his goal to continue working in a team environment.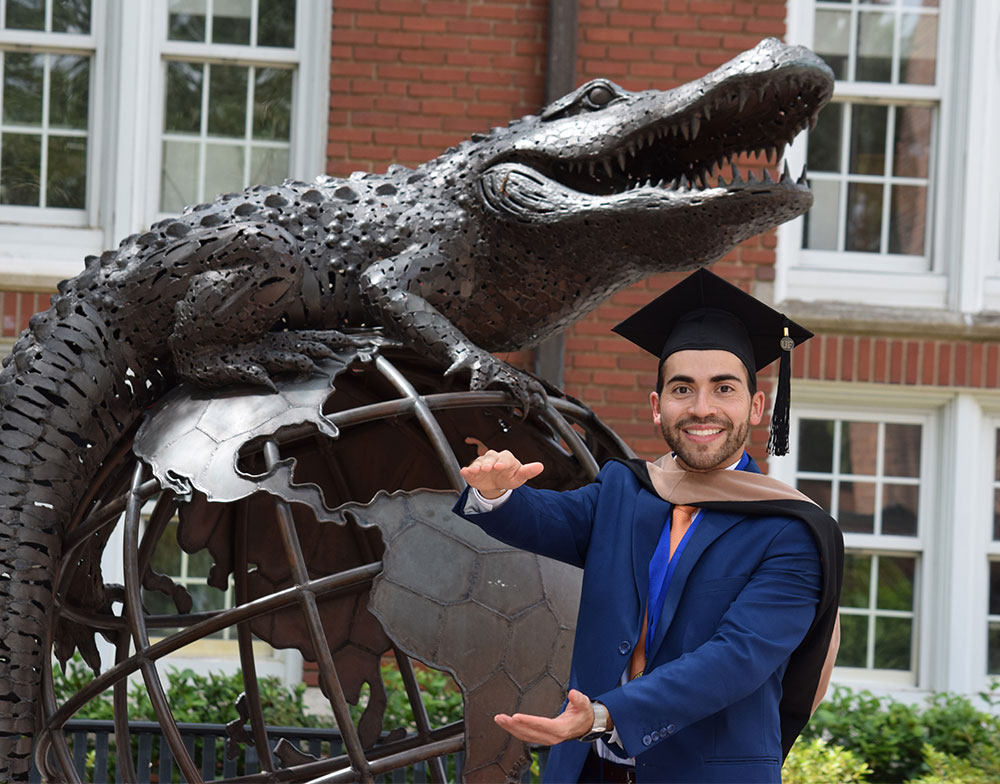 "I knew I liked working with teams and I wanted to manage teams down the road," said Gilbert. "I remember thinking, let me go ahead and look at this program, which had a core curriculum for business management but also had a lot of credits for elective courses you can tailor to your needs. And I took advantage of those opportunities with the end goal of learning how to manage teams."
Halfway through completing his degree, Gilbert applied for and was offered the position of development coordinator within the College of Dentistry. In his new role, Gilbert works with alumni and donor relations and can apply the skills he gained from his degree to his new job.
"I learned how to really speak to people and understand that not one motivator is going to apply to everyone," said Gilbert. "This leads to the importance of customization and how to tailor your approach to meet your goal. I've been able to use these skills in the world of fundraising."
For Gilbert, the benefits of the EEP go beyond tuition assistance. He views higher education as crucial in opening career opportunities that propel people forward in their field. He also believes that the University of Florida benefits from providing the EEP to its employees.
"From an institutional standpoint, it's very important to educate your workforce," states Gilbert. "By providing this opportunity to be able to finance education, you can maintain your employee base competitive. And it's also a good recruitment tool. I know of people who came to work at UF specifically for this benefit."
Gilbert completed his master's degree in the summer of 2020, and while he initially considered pursuing a Ph.D., he felt like it wasn't the right time. His last semester in the master's degree program posed several challenges, as it occurred in the middle of the pandemic.
"Between completing my bachelor's and going into my master's, I remember thinking, 'I have to relearn how to become a student,'" recalled Gilbert. "There was a learning curve where I had to figure out my best learning style. And then the pandemic threw me for a loop, because all of a sudden, I had to learn how to become an online student."
But once again, Gilbert's co-workers helped him walk through this process, providing him with the motivation to continue to pursue his academic goals. In particular, Human Resources Specialist Christina Perez motivated him to apply for the doctorate in higher education administration through the College of Education. Perez herself is pursuing the same degree with the help of the EEP.
In the end, Gilbert's hard work and dedication — coupled with the support from friends and co-workers — helped him overcome his concerns and take the steps he needed to pursue his academic and professional goals. Not only did he graduate with his master's degree, but he will start his Ph.D. in the fall and plans to continue using the EEP to help finance his studies.
"I feel very fortunate to have this opportunity," said Gilbert. "It is also like a validation of all the hard work you put into yourself. Going from not knowing how to navigate a big institution to be able to take a step back and think I'm capable of completing graduate education and then some."