Collision spaces and our need for proximity
Five years ago, the University of Florida unveiled its Strategic Development Plan that would help shape the university's and our surrounding community's future over the next 40 to 50 years. One of the plan's four initiatives, which reflect UF's goal of maintaining its standing as a preeminent university and a leading institution, is informed by the concept of "Proximity."
Proximity, within the context of UF's strategic development, is the notion that research, teaching and learning, innovation and our well-being all benefit from social spaces that provide opportunities for interaction and collaboration. With this in mind, UF has set out to foster more "collision spaces" both within UF's buildings and throughout the campus, including the proposed "Academic Walk" — a corridor that runs through campus to foster synergies between the University's colleges and the academic medical center.
"Through the campus master planning process, both the planning group and the consulting team pushed UF to think more broadly about creating those collisions," said Dr. Carrie Blanchard Bush, chief of staff to Chief Operating Officer Charlie Lane. "There's value in creating opportunities and having the space to support these informal interactions, whether it is a brainstorming session or just coming together to have a cup of coffee and conversation with a colleague you wouldn't have otherwise."
Over the past year, we've largely lost the benefit of such collision spaces. And while initially it may have seemed that technology would be able to fill the void through Zoom and other virtual meeting spaces, it's becoming increasingly clear that the hunger for spontaneous discussions and face-to-face interaction cannot be fed adequately through virtual substitutes.
"As a university, we do so much better when we do have those collision spaces and when we are able to just have a quick impromptu lunch to talk about a new discovery," said Dr. Cheryl Gater, assistant provost and director of campus experience. "Yet some of the deans have reported their faculty meetings have never been more well-attended than when they were able to virtually connect. So I think it's not all bad to have a new method to engage people."
Gater, who worked throughout the pandemic alongside staff from UF Business Affairs Technology Services and UFIT teams to evaluate and plan for classroom capacity, has witnessed first-hand the effects of distancing and the creative approaches to managing it. But, she reminds us, UF was, and continues to be, uniquely positioned to handle this challenge, unlike many of our peer institutions.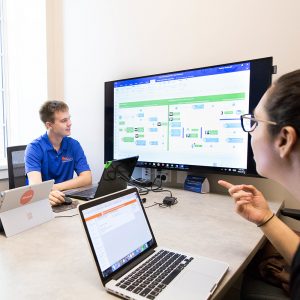 "Traditionally, we have had about 30% of our classes online each semester," she explained, "and the expectation is that online education will increase.
I think that's the one thing people didn't realize — that we were already doing online education, and that puts us in a really good position. Other universities were hit harder because of that."
As we look forward to a "largely normal course offering" this summer and fall, some of the lessons we've learned throughout the pandemic will continue to apply.
"Being forced into the videoconferencing environment and to build the infrastructure that allows online collaboration allowed us to get to places in research we wouldn't have previously," said Dr. Rob Ferl, assistant vice president for research. "So there is an upside to all of this, and that is the efficiency with which our infrastructure allows collaboration."
"But we've also learned that the laboratory experience — mentoring and being with your students and postdocs and the other people you train — has suffered during this time," he added. "The ability to sit and interact with people using a sort of old-school Socratic method in which questions and answers or lab meetings happen in real-time is absolutely necessary. One of the things that has truly suffered is the ability for a professor or senior graduate student to be able to sit side-by-side with someone and physically show them how to turn the knobs or how to pipet the solution or how to look into the microscope."
An article in the March-April 2021 issue of Harvard Business Review suggests that the workplace of tomorrow will want to create "culture spaces" where employees will find a "social anchor" for connection, mentoring and collaboration. Why are such culture, or collision, spaces so important? The article points to three critical factors:
Human beings require personal relationships to build trust
Learning through observation requires physical proximity
Chance encounters among diverse individuals are a rich source of innovation
Bush also points to the importance of collision space to foster "social capital," or networks of people who live and work together to help move the workplace and organizations forward to deliver on projects and strategic issues that individually we would be unable to achieve.
"Literally, some of the highlights of my day are talking to people down the hall and hearing what they are working on," said Bush. "Having more collision spaces for informal conversations and to connect across disciplines and throughout the workforce could be a distinguishing point of helping us to achieve our longer-term objectives."